Here at our site we show several different styles, glazing products, finishes, roofs etc. We feel that only having the ability to picturing a project in a book or online doesn't compare to having the ability to walking through and touching the product you are investing in. The ability to see different sizes on display allow the client to get a feel for the space each project will add to their property.

Here we show different styles of windows. Tilt and turns, top hung windows, fully glazed doors, Composite doors, Bi-Folding UPVC and Aluminium doors, Bi-Sliding UPVC doors Again giving a tactile approach rather than a pictorial approach.

Here we show a traditional extension that is fully compliant to building control addressing the issue that is overlooked by many other companies that sell solid roofs that clearly loose compliance with exemption to building control documents. We show gutter options in metal, UPVC and Cast effect. On site, you can see automated roof lights, manual and rain and temperature activated. Again, giving a tactile approach rather than a pictorial approach.

Soffits fascia Guttering Products
We show fascia, guttering and cladding option at various places on our show site for your information
We cover all aspects of electrical works through our in-house electricians from minor works of a single socket to full property rewires and have an extensive knowledge of the electrical industry that allows this trade to be easily integrated within our list of services
On site we show an extensive range of floor tiles and increasingly the demand for higher end products such as amtico have alouds us to show this products also.
We show modern options such as coloured renders such as K-Rend, Pro Rend Etc. We match house external renders such as Spar finishes and Rough-Caste options to blend the project seamlessly into your home. Internal plaster is never taped and jointed at Custom as the finish is never as good as a skimmed finish throughout.
Mon-Fri 8am-5pm - Sat 9am-5pm Sun 10:30am-4:30pm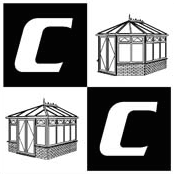 About Custom Conservatories