This double-hipped Lean-to that we have just completed in Kingswood is a great example to showcase one of the many new colours that are now available for UPVC frames.
The external frame colour is Anthracite Grey, which is becoming ever popular in recent times. It's a practical colour that stays "fresh looking", and adds a contrast to the existing white frames.
This conservatory is 2500mm wide by 3000mm in projection, giving an internal area of 5.5m2, ideal as a relaxing garden room; to enjoy some peace and quiet, and a refreshing cup of tea.
As shown in the photograph, it has been designed with as much glass as is practical, to allow plenty of light in to the room, and also in to the existing living room.
The size of the conservatory still allows an uninterrupted view from the kitchen, potted plants can be grown on the remaining patio area, and there is still plenty of usable lawn space.
A transom high wall has been built on the left elevation (viewed externally) to maintain privacy, with a 600mm wall opposite, which helps retain a pleasant view of a well kept garden.
Finished off with Bradstone to match the house, and with a set of large bi-sliding doors, this is another great installation by our committed team.
​
Mon-Fri 8am-5pm - Sat 9am-5pm Sun 10:30am-4:30pm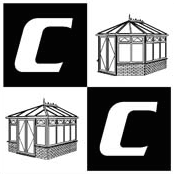 About Custom Conservatories