We have recently completed this classy addition to an already lovely home. Although it is only a small space (as is typical with any porch) it provides great practicality.
to create this modest extension, we were able continue down from the existing roof, as shown in the picture the on the left. As the tiles weather, the roof will begin to look seamless and appear as though it is part of the original structure.
Having this porch now means that the customer doesn't have to walk straight in to a clean hallway, from outside. They can now remove dirty shoes in the porch area first. having this extension also means there are two exterior doors, increasing existing security for the home.
On completion, the frames of this porch have been finished with a 'Light Oak' foil to match the existing oak timber door, and the glazing is "A" Rated to ensure heat is retained inside.
The dwarf walls have been constructed in brickwork to mirror the existing wall, which in-turn has been plastered and decorated to match all the other internal walls.
All-in-all, another job well done by all trades involved, and a big thank you to another customer for choosing Custom Conservatories to complete their project.
Mon-Fri 8am-5pm - Sat 9am-5pm Sun 10:30am-4:30pm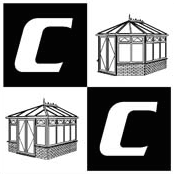 About Custom Conservatories