Double Hipped with a Box-Gutter
​Another Double Hipped Edwardian completed in Worle. Fitted using a 265 mm box-gutter (to provide sufficient capacity for drainage of rainwater from both roofs) and finished in white UPVC with Activ Blue glass in the roof and the frames.
The dwarf walls have been stepped down to mirror the tiered levels of the garden. The dwarf wall section has enabled the installation of a separate heating system, whilst the glass-to-ground allows an undisturbed view of a well kept garden.
The occupants are elderly, so having the Activ blue glass in the frames as well, has further reduced the need for cleaning. We have also built a step beneath the door threshold to make entry/exit easily accessible.
We have provide all necessary services as a complete package within the contract. From building works to installation, and also including electrics, plumbing and tiling. Providing all these services, means that the project is managed with our team from start to finish, preventing issues that can arise when liaising between multiple companies.
Mon-Fri 8am-5pm - Sat 9am-5pm Sun 10:30am-4:30pm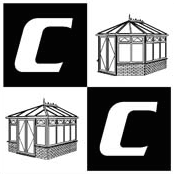 About Custom Conservatories