Double Hipped Edwardian in Cleeve
We have just finished fitting a Double Hipped Edwardian in Cleeve, North Somerset. It measures 3950mm in width by 3000mm in projection. Constructed with insulated, cavity walls (with block work on the internal skin, ready for plastering).
White UPVC frames have been fitted to match the house, and ActivTM Blue Glass in the roof to help regulate temperatures inside and reduce the need for cleaning.
It has been designed with a full height wall, two piers, and a Livin' Room detail. These features allow this conservatory to have more of a traditional extension appearance, making it more homely and practical.
Whilst the full height wall offers privacy from the neighbouring garden (and even provides a place to maybe hang pictures or decoration), a full height, glass-to-ground frame has been fitted to the opposite side elevation, to optimise floor space.
This Conservatory also has bi-sliding doors, providing a large, clear opening for access. Once all the internal works are complete, this conservatory will allow the occupants to enjoy all the surroundings of their garden, whilst staying comfortable inside.
​
Mon-Fri 8am-5pm - Sat 9am-5pm Sun 10:30am-4:30pm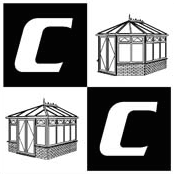 About Custom Conservatories