South facing conservatory in Portishead
​This Lean-to/Infill conservatory in Portishead, has been designed as a light and practical space, to be used as a midway point between the garden and the house.
Finished with white upvc and Dapple Light brickwork to match, this conservatory looks like part of the original house rather than an extension. And as the stonework weathers, it will look more in-keeping.
This has been installed in a south facing position, so both the roof and frames have been fitted with
'Ambi-SunShade Blue' glass, which is self-cleaning, and provides 80#% solar heat reflection.
In addition to this, we have installed a combination of top-openers, to provide air flow, and a roof vent, which allows the heat to escape more efficiently.
The internal skin of the walls is finished in Dapple Light brickwork as well, giving a more external feel to the room. Once the floor is tiled, then anyone can escape any potential rain, without traipsing into the house.
…including the cat.
Mon-Fri 8am-5pm - Sat 9am-5pm Sun 10:30am-4:30pm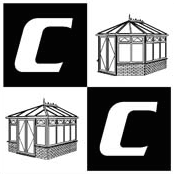 About Custom Conservatories